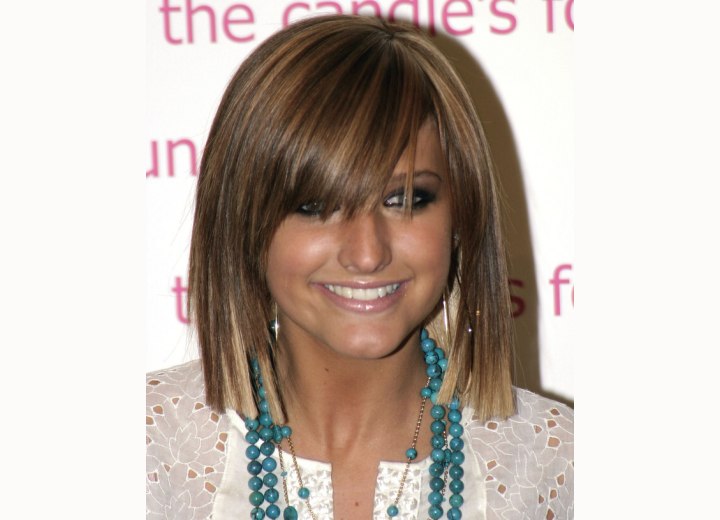 I think we have definitely found an Ashley Simpson match here...
Kirsten Stewart 19 has definitely given Ashley a run for her money with this sassy bowl cut hair do!
I must admit you have to be extremely brave to take on a hair style like this...With a blunt cut hair do such as this the individuals face is very much in full view and so therefore it often needs a strong face to successfully pull it off!
To be honest it does look as though Ashley Simpson is in fact wearing a wig here but nevertheless it does look good and is perfect for the Simpson event to prevent benefit, which she attended in New York!
Although there is a clear difference between the two girls hairstyles it is obvious by looking at the picture of Ashley Simpson that this is the look that Kirsten was looking for... With this hairstyle being a modern, up and coming look for this summer I somehow do not think these two will be the only ones sporting this hairstyle...
I must say that I do think this is a good look for Kirsten as it brings out her eyes and complements the rest of her face making it look slimmer, however I think that by adding some colour maybe a few highlights of whatever colour she most prefers, would defiantly give Kirsten a more fiery and prominent look, making the fabulous cut look a bit less bland...
However, I don't particularly like this hair style on Ashley Simpson as it does seem to add a bit of weight to her face giving her no justice what-so-ever, plus I think her blunt cut fringe is a little too long, covering her eyes, which I think is an important feature on a woman..
Our rating for Kirsten
****
Our rating for Ashley
***
(Why not leave a comment with your own rating)